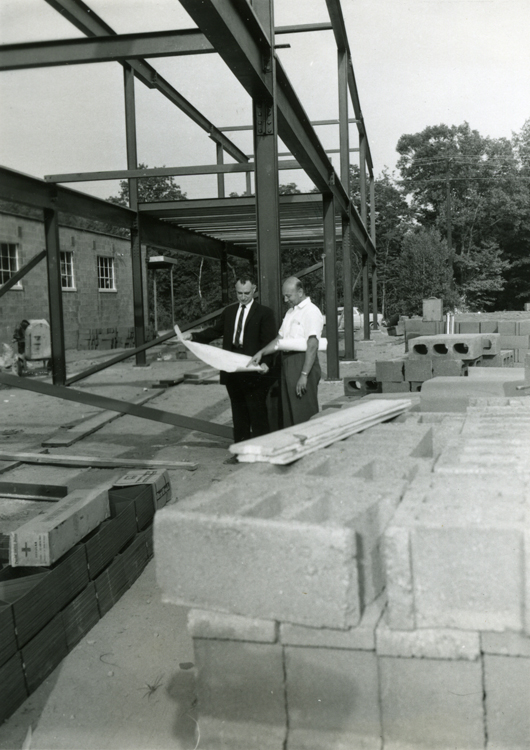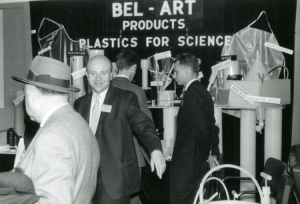 Headquarted in Warminster, PA, with production facilities in the USA and Europe, in December 2021, SP Industries, Inc, joined ATS Automation Tooling Systems, Inc (TSX: ATA), an industry-leading automation solutions provider. For more information visit
www.scientificproducts.com
.
A Short History of the Bel-Art & H-B Instrument Brands
1946
Our founder, Kurt Landsberger and his wife Anny with little more than a sewing machine and strong work ethic set up shop, manufacturing household aprons and tablecloths from their home in northern New Jersey. Anny designed and sewed, Kurt went out on the road to gather sales for the fledgling business. The Landsbergers soon discovered that the plastic coated fabric that they were using to make these items was chemically resistant, and they began marketing their products to laboratory and medical supply houses pioneering the use of plastic equipment in the laboratory.
Subsequent manufacturing expansions along with company and product acquisitions in plastics, wire and coatings expanded Bel-Art's offerings to the scientific community, and Bel-Art Products soon became a recognized leader and relied upon in scientific, industrial and healthcare laboratories worldwide.
1971
A subsidiary company Maddak, Inc. was formed to make and develop ADL (aids for daily living) products for people who were striving to lead more independent lives while facing the challenges of permanent and temporary disabilities and aging.
2012
Bel-Art Products acquires H-B Instrument a recognized market leader in temperature, density and time with a 110+ year history of manufacturing in the Philadelphia, PA area.
2014
In July, Bel-Art Products entered a new era and became part of SP Scienceware a division of SP Industries, which includes Wilmad-LabGlass specialty and scientific glassware.
SP Scienceware proudly manufactures over 85% of its Bel-Art and H-B Instrument product lines in the U.S.A. with facilities in Wayne, NJ, Trappe, PA, Kansas City, MO and Pocomoke City, MD. Our success in foreign markets has been recognized by the U.S. Department of Commerce, with the Presidential "E" Award for excellence in export sales.
Under SP Scientific, SP Industries designs and manufactures state-of-the-art laboratory equipment and biological drug manufacturing solutions that include market leading brands Genevac, Virtis, Hull, FTS systems and National-Hotpack and maintains manufacturing facilities in New Jersey, New York, and Pennsylvania in the United States, and in Suffolk in the United Kingdom.
As part of a larger organization committed to science we look forward to increased opportunities to serve our customers and remain committed to developing, manufacturing and delivering innovative products, rich in value. We appreciate your business and thank you for the opportunity you have given us.