Dear Lab Guy,
We bought a DURAC Hydrometer back in 2018 (Serial #: 4263898 ASIN: B00NG2601C Item model number: B61801-4600) on Amazon. It states everything was calibrated to the NIST but we never received a certificate. Do you know where I can find this certificate of calibration? Do you also have calibration liquids to test if the hydrometer is calibrated for purchase? Thank you!
Hi Julie,
Sorry, but your hydrometer is not calibrated.  Calibration means that the instrument is individually tested at a pre-determined point on the scale, and the adjustment factor (if any) is put on the calibration report. These reports carry an expiration and re-calibration date. These tests are performed in our A2A ISO lab under strict conditions.  The report carries the hydrometer's serial number and is only valid for that hydrometer.
The NIST certificate that came with your hydrometer is a Statement of Certificate. This certificate indicates the "Standard Serial Number," referring to the equipment and methodology used to manufacture the hydrometer which also must be strictly in accordance with the NIST.  The NIST Traceability Certificate does not expire and is good for the life of the thermometer.
For your hydrometer, the Accuracy Statement is the only certificate that would have arrived.
As for liquid standards, start with distilled water.  Your hydrometer is just shy of an SG of 1.000, so about a 60% ethanol solution could do the trick: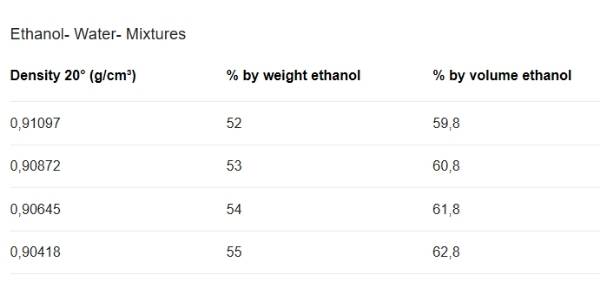 I hope this helped and answered your question. Thanks for writing in, and please feel free to write back if I can help in any other way.
Yours in science, Lab Guy