Sterileware Sense-able Scoops Metal Detectable, Sterile Sampling Tools
Metal and X-ray Detectable Plastic Scoops U.S. Patent 6,915,712 B1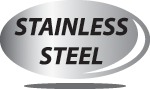 Why risk your company reputation and suffer costly product recalls? Polystyrene plastic impregnated with stainless steel powder from top to bottom permits scoops and scoop fragments as small as 1.6mm3 to be detected with standard metal detection and X-ray equipment.

Sterile scoops made with FDA grade materials safe for food, drug and cosmetic contact

Pre-notched bag allows easy opening with handle access to maintain scoop cleanliness

60ml (2oz) and 125ml (4oz) scoops have a long handle that increases the distance between the hand and sample to reduce contamination and exposure potential

Flat bottom allows scoops to remain upright for use as weigh boats or to rest on a flat surface without spilling

Blue coloring provides a contrasting color to most sampled products

Individually packaged, sterilized by gamma irradiation, lot stamped for accurate lot tracing, and shipped with a Certificate of Processing for Sterilization

These sampling scoops are designed for retrieving samples from a larger source. Capacity/volumes are estimated and are not meant for taking exact sample weights/volumes. Stated volumes represent typical heaping samples.
Try Before You Buy! Click for a free sample of Metal Detectable Scoops
Note: Sterilized products are not returnable.
Catalog Numbers H36902-0005, H36904-0005, and H36906-0005 have been discontinued. For recommended replacements, please see the blue scoops in this family.
Catalog No.:
Nominal Capacity
Dimensions (L X W X H)
Bowl (L X W X H)
Handle Length
Quantity / Pack
Price / Pack:
Order Quantity
Blue
H36902-0006
60ml (2oz)
20.5 x 4.1 x 2.9cm (8¹⁄₁₆ x 1⅝ x 1⅛")
7.8 x 4.1 x 2.9cm (3¹⁄₁₆ x 1⅝ x 1⅛")
12.7cm (5")
100
$177.15
H36904-0006
125ml (4oz)
22.1 x 5.1 x 3.3cm (8¹¹⁄₁₆ x 2 x 1⁵⁄₁₆")
9.4 x 5.1 x 3.3cm (3¹¹⁄₁₆ x 2 x 1⁵⁄₁₆")
12.7cm (5")
100
$264.70
H36906-0006
250ml (8oz)
19.1 x 5.4 x 4.9cm (7½ x 2⅛ x 1¹⁵⁄₁₆")
13.5 x 5.4 x 4.9cm (5⁵⁄₁₆ x 2⅛ x 1¹⁵⁄₁₆")
5.6cm (2³⁄₁₆")
100
$456.85