Is Thanksgiving Thursday or Fry-Day?
Next Thursday many Americans will spend the day preparing a lavish feast to celebrate Thanksgiving, the centerpiece being the traditional turkey. The US Fire Administration reports that approximately 5000 fires occur on Thanksgiving Day, which can cause millions of dollars of property damage, numerous injuries, and in some cases, even death.
Some of these fires are caused by improper turkey frying procedures. Watch out TEXAS! Your state has the largest number of turkey frying fires in the nation!

Thinking of plunging your turkey in hot oil? Here are our top fried turkey safety tips!
Make sure the turkey is completed thawed out - even a partially frozen turkey can cause the hot oil to erupt into a fireball!
Don't overfill the fryer - that turkey takes up a lot of room
Never leave the fryer unattended - someone needs to keep an eye on the little guy
Keep kids and pets away from the fryer - we know it smells good, but stay back!
Do not fry inside your house or garage, or even on your deck or porch! Stay away from trees, walls, fences, or anything flammable!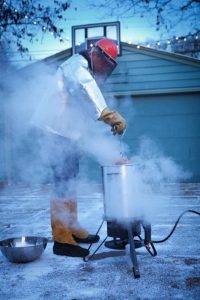 In the event of a fire, at home or in the lab, it's important to have the proper safety precautions in place, which should include a Fire Blanket!