Every
March 17
, you can expect to see a sea of green - literally. Green clothes, green beer, green foods, and yes, even green rivers. But did you know the original color associated with St. Patrick's Day was actually blue? St. Patrick himself was often shown wearing sky blue, known as St. Patrick's blue. So why did we start to 'go green'?
Since the 17th century, the color green has been used to represent:
A tribute to Ireland's nickname 'The Emerald Isle'
One of the 3 colors of the Irish flag
Green shamrocks, which were used by St. Patrick during his religious teachings to symbolize the Holy Trinity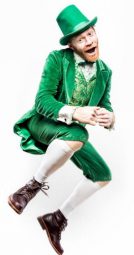 Another reason to wear green? Leprechauns!
Legend has it they will pinch anyone not wearing their favorite color. That's reason enough for us!
Are Your Thermometers 'Green'?

H-B Enviro Safe® Thermometers are
(not just for St. Patrick's Day)!
Earth friendly, EnviroKleen™ certified
Non-toxic, biodegradable Enviro-Safe liquid
Search 'Enviro-Safe' on belart.com