Tipping the Scales
When does a pumpkin go from big to giant? 100 lbs? 1000 lbs? More? In the 1980's, the heaviest pumpkin weighed in at just over 400 lbs. Now, pumpkin growers are aiming for 2000+ lbs, and getting heavier every year! Here are some interesting facts about these scale-tipping giants!
Virtually all giant pumpkins are descended from "Dill's Atlantic Giant" variety which took 30 years to cultivate.
High-pedigree hybrid seeds of prize-winning giant pumpkins can cost growers anywhere from $10-100 or more per seed.
The world record for the heaviest pumpkin is held by Mathias Willemijns of Belgium. The pumpkin weighed 1,190.49 kg (2,624.6 lb)
Bragging rights are not all you win for growing a giant: the recent winner of the 2017 Half Moon Bay Champion Pumpkin Weigh-Off in California took home $7 per pound for his 2,363 lb pumpkin (that's $16,541!)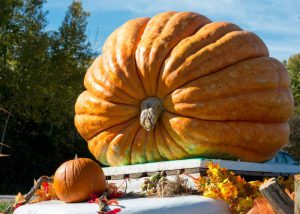 When weighing powders and not pumpkins (or other solid matters), SP Scienceware has a variety of sampling tools that double as weigh boats!